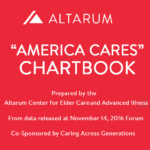 The America CARES Forum was held on November 14, 2016, a week after the national election. Sponsored by Altarum with Caring Across Generations, the forum featured national polling data from Lake Research Partners and The Tarrance Group. The polling showed strong support for major policy advances for both family caregivers and direct care workers, as demonstrated in the data from the Chartbook for America CARES [click to download the PowerPoint file]. Voters of all stripes ranked caregiving as a major concern and all endorsed substantial policies to make caregiving more possible and less burdensome.
Overall, the number of older adults over the age of 65 will nearly double by 2050 and the 80+ population is projected to increase 79% from 2010 to 2030 and 44% from between 2030 and 2040. These changes, coupled with falling birthrates, will create a care gap, with less than 3 people of working age (potential caregivers) for each older adult in need — compared with a 7:1 ratio in 2010. Meanwhile, labor force participation among women ages 25 to 64, who currently make up 73% of the home care workforce, will increase by only 2 million in the next decade, compared to 6.3 million in the previous decade.
Caregiving issues will shape the politics and policies of the coming decades.