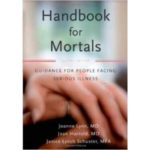 The following post first appeared on March 27 as "New Chapters" via www.mydirectives.com. 
Starting productive conversations with your loved ones about your life decisions is not always easy. It takes a great deal of strength and initiative to take that first step. One of the best ways to take initiative is to find inspiration, so we would like to share one of our favorite books on the subject. This book has helped us, as well as our friends, start the conversation with loved ones about our medical wishes and decisions. So, if you're looking for some inspiration, start with this:
We tend to believe that our options become limited as we grow older or when we face illness. This shouldn't be the case. In fact, tough trials give us opportunities to grow, build strong relationships, restore old ones, and carpe diem– seize the day! Dr. Joanne Lynn's Handbook for Mortals reminds us that we are a lot stronger than we think we are. All you need is a bit of insider wisdom to realize it. After all, you may already know that your perspectives define your happiness, but you can't shape your perspective without knowing your options.
From her profound experiences in the medical field, Dr. Lynn, director of the Altarum Institute Center for Elder Care and Advanced Illness [now the Program to Improve Eldercare], shares with us long-developed know how on approaching our relationships and our medical preferences. Learn where and from whom you can seek advice and channel your concerns. Find cathartic ways to embrace your emotions. Learn how to talk to your family and friends about your opinions and ultimately, your decisions. This is not a book of tips and tricks; it's a book that allows you to discover your own potential and set your own rules.
Feeling inspired yet? Get started with your own advance medical directive and start the conversation with your family and friends. If there's one lesson to draw from this book, it's that taking control of your medical decisions and sharing them with your loved ones is the best way to make any medical crisis a better experience for not just you, but everyone involved. We hope you'll read Handbook for Mortals and share with us in the comments below, via Facebook and by reaching out to us on Twitter at @MyDirectives what you thought of it and how it changed you.
key words: care plans, advance care planning, aging, Dr. Joanne Lynn