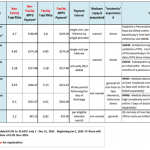 By Elizabeth Rolf and Holley Stanley
Physicians caring for frail elders have long complained that they cannot provide optimal care and stay in business, given how Medicare pays for services. Over the last decade, CMS has developed and implemented new payment strategies within the Fee-for-Service Medicare Physician Fee Schedule (MPFS), aiming to encourage primary care for persons facing chronic illnesses. This shift in coverage and payment signals an evolving appreciation that prevention, non-face-to-face care management services, and care delivery by an interdisciplinary team (IDT) of health care professionals contributes to better health at lower cost. However, many physicians and other stakeholders do not use the new codes, in part from unfamiliarity and in part from their requiring some changes to how services are organized. Many of these practitioners do not realize how much revenue they are leaving "on the table." So, we have developed a complete but readily usable form that would allow anyone to estimate their potential revenue and to test the effects of making various assumptions about uptake by patients or adding staff.
The attached Excel spreadsheet is organized as follows: Tab 1 briefly overviews important factors considered in determining payment for Medicare services. Tabs 2 and 6 provide a useful resource for details in the appropriate use of the included codes: Initial Preventive Physical Exam (IPPE G0402); Annual Wellness Visit (AWV G0438 and G0439); Transitional Care Management (TCM CPT 99495 and 99496); and Chronic Care Management (CCM CPT 99490). Because payment varies by geographic location, Tabs 4 and 5 guide the user through determination of the Geographic Cost of Practice Index (GCPI)-payment which then auto-fills cells on Tabs 7 and 8 to allow a calculation of potential revenue. Because CCM is billed per eligible calendar month, the worksheet in Tab 9 allows for estimates of the willingness to participate of patients in a provider's practice that are anticipated to meet the eligibility criteria for CCM and this value is auto-filled to the appropriate cells on Tabs 7 and 8, which calculate total revenue.
Here is an example of the helpful tables that you'll find in this spreadsheet, and a link to the spreadsheet: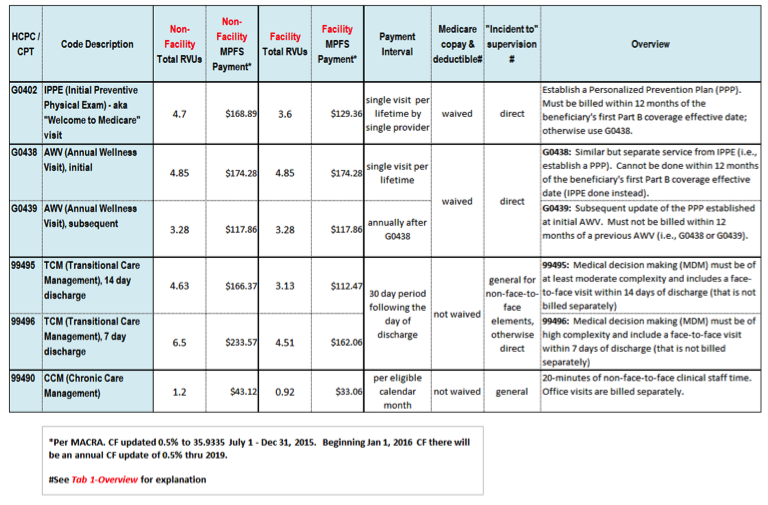 (http://medicaring.org/wp-content/uploads/2015/10/altarum_cpt_spreadsheet_oct2015.xlsx)
CMS' decision to provide payment codes is a step in the right direction. Although there have been some obstacles, we hope that the final rule in November will provide more direction and clarity. Providers and clinics should recognize the opportunity they have to hire appropriate staff (full or part-time, employees or contractors) to counsel for wellness visits, to attend to transitions with care, and to develop care plans and implement them over time. Wellness visits were established in 2011 and establish a Personalized Prevention Plan and Health Risk Assessment. Transitional Care Management (TCM) recognizes that care gaps may occur when transitioning from one facility to home. TCM provides assistance and follow-up to improve outcomes and increase savings after a complex beneficiary has been discharged. Chronic Care Management (CCM) codes cover services that use at least twenty minutes of the clinician's time to establish, implement, monitor, or revise a patient's care plan. The patient must have two or more chronic conditions that put the patient in a state of functional decline, and the conditions are expected to last more than twelve months, or until death.
By establishing chronic care management codes, CMS is recognizing the value that prevention and comprehensive care management has in primary care and understands that it leads to better health for beneficiaries and lower costs. The new codes indicate that CMS is beginning to appreciate the need for non-face-to-face clinical services, and CMS has allowed physicians to bill for these services now that there is a new awareness of the tasks of elderly persons living with disabilities and the conditions that come hand-in-hand with aging. The codes begin to incentivize discussions with beneficiaries and families dealing with multiple chronic conditions and the codes recognize the need for awareness for the tasks of elderly persons living with disabilities and the conditions of aging. The new codes cover at least some of the time that clinical staff needs to carry out the evaluations and discussions that are essential to better address the complex situations of the beneficiary population. Incentivizing providers to coordinate care for beneficiaries living with chronic conditions is an important step for ensuring continuity and meeting personal goals of frail elders and their families.
We recognize that there can be many obstacles to practices for using these codes. In the preliminary ruling, CMS has acknowledged these obstacles and is soliciting comments about potential solutions. Undoubtedly, there will be ongoing improvements, but first, clinicians in various settings need this sort of help to take up the new codes and develop focus as to what else is needed.
We applaud the ongoing efforts by CMS to improve capture of the physician work and practice expense necessary to provide these important services. Likewise, it is also encouraging that CMS has acknowledged a need for refinements in these services to remedy the slow uptake in their use by providers. In their July 15, 2015 Proposed Rule (https://www.federalregister.gov/articles/2015/07/15/2015-16875/medicare-program-revisions-to-payment-policies-under-the-physician-fee-schedule-and-other-revisions), they explicitly asked for comments from stakeholders and their response to these comments will be available in the MPFS Final Rule which will be available in November 2015.
Please follow the MediCaring link to download the spreadsheet: http://medicaring.org/wp-content/uploads/2015/10/altarum_cpt_spreadsheet_oct2015.xlsx
Please do let us know how you found it useful and any improvements you would recommend. Contact us at [email protected]