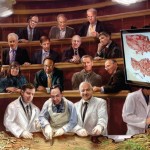 The new theme issue of JAMA (Journal of the American Medical Association) features a dozen opinion pieces that address critical issues in US health care,  including "Reliable and Sustainable Comprehensive Care for Frail Elderly People," by Dr. Joanne Lynn, director of the Center for Elder Care and Advanced Illness at Altarum Institute.  In her "Viewpoint" essay, Lynn describes the MediCaring model for improving care for frail older adults by integrating health and social services, with monitoring and management by local communities.  Today, she joined JAMA editor-in-chief , Howard Bachner, M.D., Hamilton Moses III, M.D., Ezekiel Emanuel, M.D., and Ph.D., Joshua Sharfstein, M.D., for a  briefing at the National Press Club in Washington, D.C. (Dr. Lynn is among the audience in the cover art, included here.)
A limited number of downloadable copies of the article are available via a JAMA E-print link on the page covering this story on the Altarum web site.
You can watch a 35-minute video of Joanne Lynn's remarks via the YouTube video shown below. You also can download the PowerPoint presentation that she speaks about in the video.
You can also view a YouTube video of the entire press conference:
Lynn said, "We almost all get to grow old; it's the terrific success of modern medicine." Indeed, she noted that  those lucky enough to grow old—including millions of Boomers now on their way—face a health care system not designed or equipped to meet the essential needs of very old people for continuity of care, community-based services, access to nutrition and transportation, and help for family caregivers. Lynn writes that requiring a comprehensive, realistic assessment of each frail elderly person's situation and development of a shared plan of care,  is the keystone of highly reliable, effective and affordable care. These care plans would inform and direct a person's care,  and build the delivery system we need in advanced old age. Anchoring the effort in the communities where people live will make them more effective and will allow savings from more efficient medical care to be used to support social services, a plan that Dr. Lynn calls "MediCaring ACOs."
Lynn concluded today's remarks with a sense of urgency, and a call to action. "It's not a hotshot pill anymore, it's how people are going to live with these conditions," she said. "We have about a decade to get it right."
In earlier posts for Altarum's Health Policy Forum, Lynn has written about  her vision for creating and testing the MediCaring model. And in a recorded session, she highlights just how that vision might play out viaa proposal to demonstrate MediCaring4LIFE in 4 communities around the country. That proposal is now under review at the Centers for Medicare and Medicaid Innovation.
key words: Joanne Lynn, JAMA, MediCaring, Medicaring4LIFE